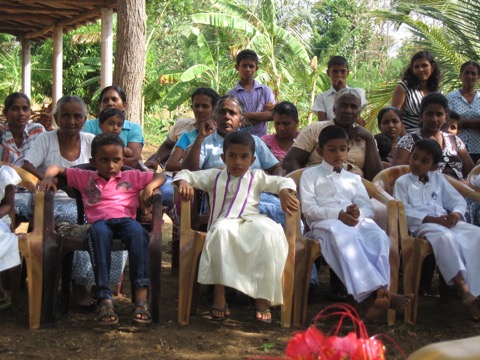 The community of Weherayaya lies in the Wellawaya area of Sri Lanka and like other locations in this region, suffers severe drought for substantial periods of the year.
The villagers had to rely on carrying water from the river for drinking, cooking and bathing until 2015 when an assessment of needs was made and the Trustees received a request from the local Sarvodaya Society officers to support the construction of a well for the people, which was agreed to.
The well site in this community lies on a large area of land owned by village resident Mr Kumara and his wife who generously agreed to allow community access for the purpose of well construction and subsequent use.
They agreed that a large well, some 27 feet deep and 20 feet in diameter could be made, based around a ground spring which held water for short periods of time but with no retention facility.
The people of Weherayaya engaged in the construction process with true community spirit. Whilst skilled labour was hired, the local families donated time and energy to assist the building of this large construction over a three to four month period of time. Cement, sand, bricks and iron were purchased and transported to the site as an integral aspect of Project Sri Lanka's support.
Farming is the main means of income generation in this village and the people are now able to generate a surplus over their own needs which can be sold. Chief crops include coconuts, bananas and a wide variety of vegetables. As with other communities, the well has transformed the quality of life for the whole village and its rural families.
The agro-drinking well was officially opened by Trustees Joy and David Cooper in January 2016
When Trustees visited this village in 2018 they were delighted to find our large well full of water and pumping it out over agricultural land. The land was very well farmed. crops included coconuts, bananas, papaya, maize, sugar cane, peanuts, beans and peppers. Rice is also harvested and sold bringing in valuable income. None of this would have been possible without our well.