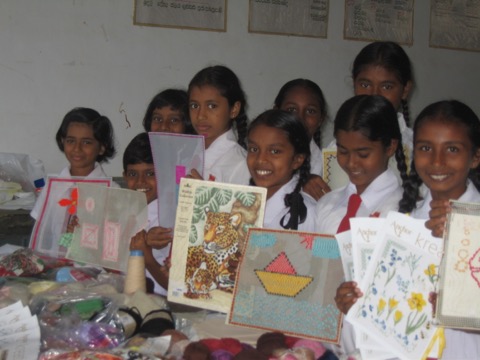 One of the fundamental goals of Project Sri Lanka is to equip young people with skills that may enable them to enjoy new hobbies and leisure time activities and also to acquire skills that may lead to income generation potential.
One area in which tremendous success and personal development has been achieved is that of hand-crafts.
For several years, Trustees have carried to Sri Lanka substantial quantities of cross-stitch and embroidery materials plus valuable books on these subjects, donated on a regular basis by Project Sri Lanka supporter and cross-stitcher Moira McLean of Berwick-upon-Tweed, Northumberland. Most of these sewing and crafts materials have gone to the girls and their teachers in Sri Sumangala Girls College in Weligama town.
We have witnessed wonderful advances in the skills and ability of the girls brought about by these donations. Many have grown to love cross-stitching and sewing and will carry this love and ability into adult life. Numerous examples of their work, enabled by Moira's donations, are shown in the images in the Gallery of this page.
Other donors give craft materials for the benefit of younger school children in our village schools and the Charity is indebted to them all, and in particular Mary Nisbit of Belford, Northumberland, who is a regular donor. The children are gaining important hand-craft skills that will equip them for a lifetime of enjoyment and possibly employment.
In the village of Vikumgama, some of the Charity's volunteers engaged in the teaching of card making and the young people and ladies of the village made many very beautiful greetings cards which again are shown in the Gallery photos of this page. It is hoped that this project may be extended into a profitable small business venture in the locality.