Three community volunteers who are are involved in Project Sri Lanka through their support for the Children's Education scheme spent several weeks in January and February 2010 in Ahangama.
Mr Mike Brown and Mrs Alison Brown taught in Dhamarama school and Mr Scott Weightman taught in Sangaratte School.
Mike and Alison describe their experiences:
Report on English Teaching by Mike and Ali Brown by January 2010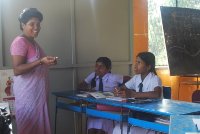 We taught at Dharmararma School, near Ahangama, on January 18th, 20th, 21st and 22nd. We probably would have spent at least another two or three days at the school, but for interruptions caused by the Presidential Election of Tuesday 26th. Alison and I worked together, and taught pupils who were between six and ten years old. Many of the classes were large (about forty children). The first day was the most tiring. Then we learnt to pace ourselves somewhat.
On the whole, we enjoyed the teaching very much. The staff were friendly and the pupils were lovely. Mrs Pieris, who was Head of English, visited us twice at the Insight Hotel, once before we started teaching, and once after we had finished. Another teacher (Miss Jayanthi) invited us to visit her at home, which we did on Monday 25th. We were made very welcome by her and her mother.
A lot of our work (as requested by the English Department) was done through English songs with actions. The Lancashire song "Wind the Bobbin up…" soon became a universal favourite. We even danced the Hokey Cokey with one class. We played lots of games, especially number bingo and word bingo which seemed to go down well. For activities, Alison did sewing with smaller groups, and I was asked to write a ten minute play for a cast of twelve. The result was a tour de force involving Goldilocks, the three bears and the seven dwarves. The play began with "the Teddy Bears' Picnic", and ended with "Heigh Ho, Heigh Ho, it's off to work we go…" providing the rousing finale. The plan was to perform the play in Assembly the following week.
This school is a recently built establishment. The buildings and the educational provision seem very good. It was a very worth-while experience for us, and we are sure the children enjoyed it too. Our visit generated much excitement. We would love to do it again sometime.
Report on Teaching at Sangaratta School by Scott Weightman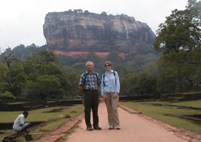 Ahangama, noted for its pretty beaches and perfect surfing conditions, is situated at the extreme south of Sri Lanka. Sangaratta school is a ten minute tuk-tuk ride from the centre of Ahangama. It is a small school, catering for yougsters up to the age of sixteen. Despite being poorly resourced and lacking the basic utilities, the children are delightful and eager to learn. While their understanding of English is limited, almost all the pupils volunteered to stay behind after school to learn English "action" songs and play games – particularly those that attracted prizes!