VISIT OF TRUSTEES ALISON AND MICHAEL BROWN TO SRI LANKA, JANUARY/FEBRUARY 2018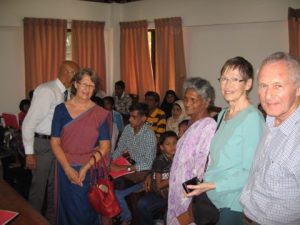 Trustees Alison and Michael Brown visited Sri Lanka in early 2018 and enjoyed seeing a number of the villages where we have enabled the construction of schools and community buildings including Mapalagama and Hiththatiya. They also attended the meeting at the Dental Faculty and Hospital in Peradeniya where we heard of progress with our oral cancer project and launched the paediatric oncology surgical equipment project.
A significant part of their visit was concerned with investigating the impact of our provision of agro-drinking wells. They visited 11 villages where wells have been installed and provided data for the report on this. Updates and new photos are given where appropriate in the relevant village pages of the website.