VISIT OF CHAIRMAN AND SECRETARY OF THE TRUSTEES TO SRI LANKA, JANUARY 2018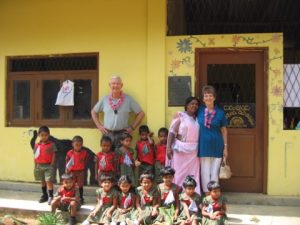 Joy and David Cooper had a busy and highly productive month-long visit to Sri Lanka through January 2018. They met with the Directors and leaders of the organisations we work with and visited many of our project locations including villages in the Matara and Ratnapura Districts. Thy attended Rotary meetings in Colombo and Kandy and met with the children we help through our educational support scheme.
Highlights of the visit included meeting surgeons, staff and patients of the Department of Oral and Maxilofacial Surgery at the Dental Faculty hospital in Peradeniya where we will be donating equipment for paediatric surgery, and officially launching our School Garden Project at Ilukwewa Junior College in Sigiriya.