A HAPPY ENGAGEMENT, JANUARY 19th 2018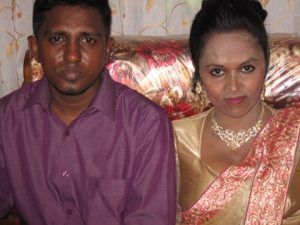 The chairman and Secretary were so delighted to be invited to the Engagement party of the daughter of the teacher in our school in Ihalagalagama and her husband-to-be from Colombo. The party was held in the home of the teacher who we have known since our school was built 10 years ago.
It was a very happy occasion attended by members of the close families of the bride and groom-to-be. It also involved Almsgiving and religious blessings on the couple conducted by the Chief Priest and other monks of the local Temple. Following the formalities, a wonderful lunch was served in the home, prepared and served by relatives of the bride-to-be.