HONOURED WITH A PAUL HARRIS FELLOWSHIP, DECEMBER 14th 2017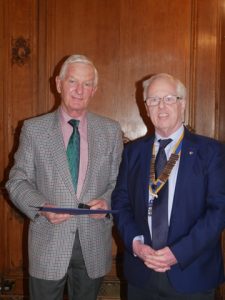 David Cooper, Secretary to the Board of Trustees was awarded the high honour of a Paul Harris Fellowship by the Rotary Club of Alnwick on December 14th 2017. This award was in recognition of the thirteen years of voluntary service which David has given to being a Trustee and Secretary of Project Sri Lanka, and to community development and humanitarian work in Sri Lanka.
The award was presented to David on the occasion of the Christmas Fellowship lunch at the White Swan Hotel in Alnwick. It was presented by the President of Alnwick Rotary Club, Rev. David Cant.