PALANA 'SARVODAYA' CHILDREN GATHERING JANUARY 2017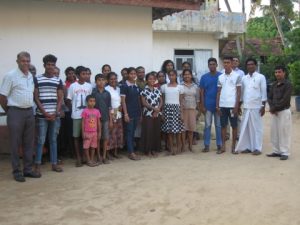 After the tsunami tragedy devastated lives in 2004, Project Sri Lanka commenced a programme to support 59 children whose families are members of the Sarvodaya community in Palana, Weligama, whose families had been severely affected by the disaster (see related website page in Sponsor a Child's Education). Each child has been supported ever since until reaching the age of 18 which most have now done.
In January 2017 Trustees Joy and David Cooper attended a gathering of the 8 children remaining on the programme who themselves are now approaching the end of schooling.