OPENING OF WELL AT VEHERAGALA, HABARANA, JANUARY 29th 2017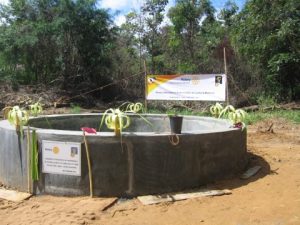 On Sunday 29th January our agro-drinking well in the village of Veheragala, near Habarana was declared officially open. This well is in an area of archaeological significance and permission had been gained from the Sri Lanka Archaeology Department to dig out this vital resource for the village people. It is 30 feet deep and will supply year round water to the villagers.
The ceremony was attended by Trustees Joy and David Cooper and a team of Rotarians from the Rotary Club of Colombo Mid City who had co-funded this important project with Project Sri Lanka. After the formalities of unveiling the plaque and speeches, the village children performed drama and dancing.