OPENING OF WELL AT MANELGALLA JANUARY 2017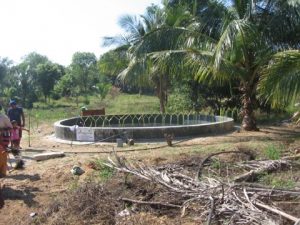 On 20th January 2017, Trustees Joy and David Cooper returned to the village of Manelgalla in the district of Wellawaya to see progress with the agro-drinking well project there. Construction work had been halted during the year as a result of adverse weather conditions, but they were delighted to see that the well had been completed and declared it officially 'open'.
It is a huge well with potential for significantly increasing agricultural production in the village in addition to enabling water supplies for drinking and cooking.