INAUGURATION OF THE ORAL CANCER AWARENESS, DETECTION AND PREVENTION PROGRAMME, JANUARY 26th 2017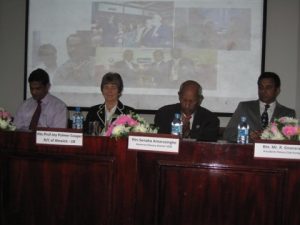 A substantial new programme being supported by Project Sri Lanka 2017-2019 is concerned with awareness, detection, prevention and treatment or oral cancer which is a major health issue on the island. This programme is being implemented by the Department of Oral and Maxilofacial Surgery of the Faculty of Dental Sciences at the University of Peradeniya and Cancer Care Services in Sri Lanka. The donors are Project Sri Lanka, the Rotary clubs of Kandy, Alnwick and Honolulu Sunset and their associated Rotary districts.
On January 26th 2017 Trustees Joy and David Cooper participated in an inauguration and press release event at the Faculty of Dental Sciences. This was attended by the District Governor of Rotary Sri Lanka and senior members of the Dental Faculty and Cancer Care Services. Further details will be found on the Peradeniya page of this website.