DONATION OF EQUIPMENT TO KANDY GENERAL HOSPITAL FEBRUARY 2017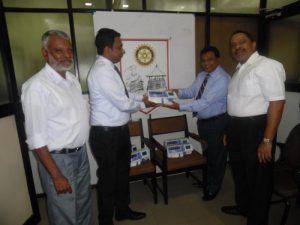 Project Sri Lanka donated further much needed equipment to Kandy General Hospital in February 2017. This donation was of 4 syringe pumps, adding to the quantity of this essential device given in 2016.
In January, Trustees Joy and David Cooper met with officers of Kandy Rotary Club and finalised arrangements for handing over of the pumps. A ceremony took place in February 2017 when Rotarians from Kandy attended the hospital and formerly gave the equipment to the hospital staff on behalf of Project Sri Lanka.