DEVELOPMENTS AT THE CENTRE FOR HANDICAPPED, KANDY, JANUARY 2017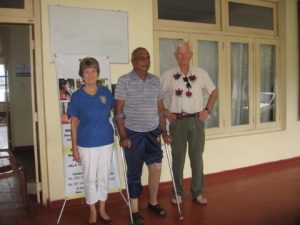 Trustees Joy and David Cooper enjoyed another visit to the Centre for Handicapped in Kandy which is a project that we have supported on several occasions including through a Global Grant of Rotary International linking with the Rotary Club of Kandy and through an 'in perpetuity' donation.
In January 2017 the Trustees witnessed a man learning to walk with a new prosthetic limb. They also learned of developments at the Centre over the past year including an ever-increasing number of people helped after amputations and spinal injuries and the provision of vocational training classes.