ROTARY DISTRICT 1030 ANNUAL CONFERENCE 9th-11th OCTOBER 2015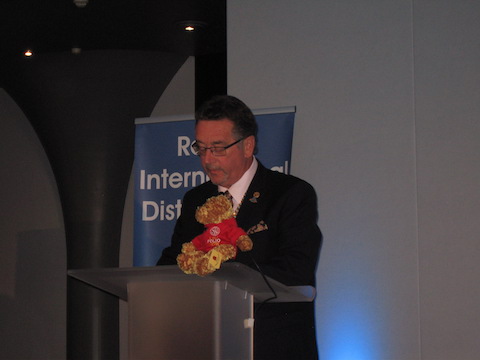 The Chairman and Secretary of the Trustees, Joy and David Cooper, spent  very enjoyable weekend in Edinburgh at the Annual Conference of Rotary District 1030 in October 2015. The District Governor, Terry Long, has 'adopted' the Centre for Handicapped in Kandy as his major fund-raising initiative of his year in office, in partnership with Project Sri Lanka.
Joy and David presented Terry (shown in the photograph) with a cheque for £5,000 from the Charity to get the fund-raising off to a vibrant start. The money raised is being incorporated into an applicant for a Rotary Global Grant by the Rotary Club of Kandy. At the same Conference, a very large bottle of wine was raffled for 'The Kandy Project' and this raised over £800 for the Governor's fund. The wine was donated to Project Sri Lanka for fund-raising by St James's Place and we are extremely grateful to Paul Williamson of St James's Place for this generous contribution to our humanitarian endeavours.