MOBILITY DEVICES FOR THE CENTRE FOR HANDICAPPED, JULY 2015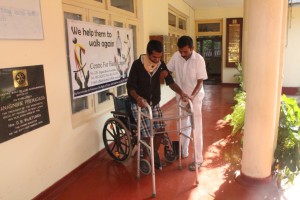 Two greatly appreciated items of mobility equipment were handed over to officers of the Centre for Handicapped in Kandy by the Chairman on her visit to Sri Lanka in July 2015. These were donated by Mrs Moira McLean of Berwick-upon-Tweed.
The devices have augmented the Centre's store of equipment used by individuals awaiting prosthetic limbs after amputations and by those in the training stages after the fitting of new limbs.