VISIT OF ALNWICK ROTARIANS TO SRI LANKA, FEBRUARY 2015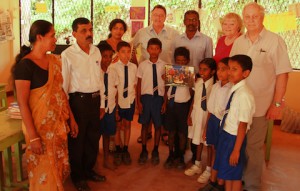 A team of Rotarians from the Rotary Club of Alnwick in RIBI District 1030 visited Sri Lanka in February 2013. The four visitors were District Governor Elect Terry Long and his wife, Marion Long and Rotarians Elaine and Graham Smith. All four had previously visited Sri Lanka and been instrumental in the Rotary Club of Alnwick's support for the building of Mapalagama School.
On this visit they visited Mapalagama and enjoyed seeing both the newly completed Primary and Pre-Schools, and they visited the Rotary Club of Colombo Mid-City, one of Project Sri Lanka's main partners.