ADOPTION OF OUR 7th WELL SITE, WALASKEMA, FEBRUARY 2015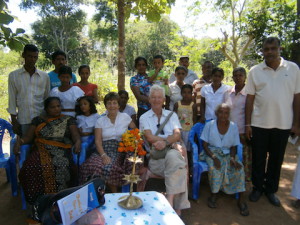 Trustees Joy and David Cooper and Alison and Michael Brown all paid visits to the site of our potential 7th well which lies in the village of Walaskema in the Wellawaya District of Sri Lanka. They had the pleasure of meeting villagers and hearing of the need to create a well in this location.
They gathered beside a large area of agricultural land without a permanent water supply and learnt of the need for water on site which would be used for drinking and bathing purposes as well as for arable crop growing and maintaining a herd of cows which at present do not survive the dry season.