VISIT OF TRUSTEES ALISON AND MICHAEL BROWN TO SRI LANKA FEBRUARY 2015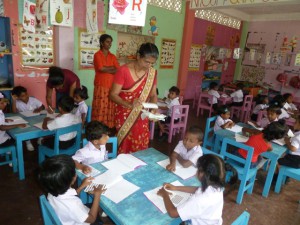 Trustees Alison and Michael Brown made a substantial visit to Sri Lanka in February 2015 during which they visited a good number of the Charity's projects including our villages in the Ratnapura and Matara Districts and the newly completed school at Mapalagama, They visited the new Project Sri Lanka well in village 39K and went to assess the potential for a new well in Walaskema.
Other highlights included spending time at the Centre for Handicapped in Kandy where various items of equipment were handed over and visiting the Hindu College in Ramboda. At this College they met the ladies who have received sewing machines from the Charity and enjoyed seeing samples of their work which they sell in order to support their families. In this location they also were welcomed into a school of 500 Tamil pupils in need of water supply.