VISIT OF TRUSTEES JOY AND DAVID COOPER TO SRI LANKA, JANUARY 2015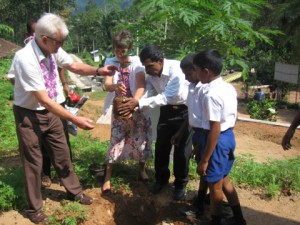 Trustees Joy and David Cooper spent four weeks in early 2015 visiting the Charity's villages and associated projects. They also enjoyed meeting with the young people in Weligama being supported by Project Sri Lanka.  Highlights of the visit included the official opening of the Pre-School at Mapalagama, where they planted an orange tree to mark this special occasion.  They also declared open of the well in village 39K, and handed over prosthetic limbs and mobility equipment at the Centre for Handicapped in Kandy.
Joy and David attended meetings of the Rotary Club of Colombo Mid City and the Rotary Club of Kandy and engaged in exploratory visits to other places which may be considered as locations for projects to be supported by the Charity.