OFFICIAL OPENING OF MAPALAGAMA PRE-SCHOOL, 13th JANUARY 2015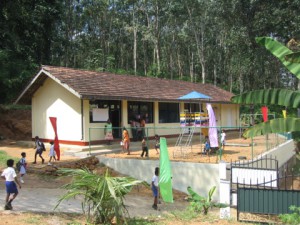 On 13th January 2015 Trustees David and Joy Cooper paid a visit to the site of Mapalagama School. They enjoyed seeing the completed Junior School and took part in a ceremony to declare open the associated Pre-School on the site. The original 'old' pre-school had been much in need of repair and refurbishment . A grant from Project Sri Lanka enabled the repairs to be carried out and new furniture, equipment and a toilet block to be provided.
The refurbishing of this pre-school is seen as a very important step towards completion of primary education at Mapalagama. With a flourishing early years facility, children will come here and progress to the primary years.