HANDING OVER OF EQUIPMENT FOR THE CENTRE FOR HANDICAPPED, JANUARY 28th 2015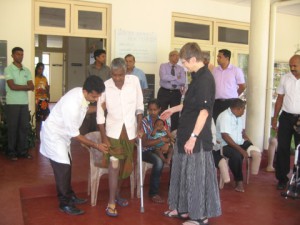 Four Trustees attended a gathering at the Centre for Handicapped in Kandy on January 28th 2015 and had the great honour of handing over prosthetic limbs and other items of mobility equipment which formed part of the substantial donation to the Centre made by the Charity in 2014.
Alison and Michael Brown and David and Joy Cooper met several individuals who had suffered amputations and others in need of mobility devices. They appreciated a tour of the Centre's workshops and physiotherapy facilities.