VISIT OF JOY PALMER COOPER TO SRI LANKA, JULY 2014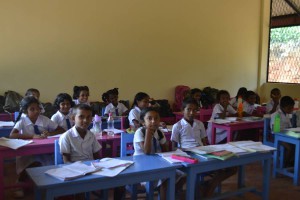 Chairman of the Trustees Joy Palmer Cooper visited Sri Lanka in July 2014 in order to complete the documentation relating to the completion of Mapalagama School, arrange for the formal opening of this school and discuss other projects proposed by the Rotary Club of Colombo Mid City, one of our major partners in Sri Lanka.
She also finalised the arrangements for payment of the remaining 2014 sponsorship money for our 'adopted' children in Palana and Weligama and discussed future plans for this and the 'Jagabay' child sponsorship schemes.
The charity was asked to support the provision of another agro-drinking well and the site will be visited by the Trustees on their next visit to Sri Lanka.