PRESENTATION FROM THE ROTARY CLUBS IN ROTARY DISTRICT 1030 TO PROJECT SRI LANKA, 13th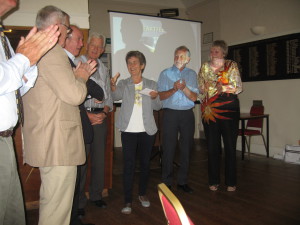 On 13th August 2014, a meeting was held in Alnwick to which the Presidents of the Rotary Clubs in Area 1 of District 1030 R.I.B.I. who had contributed to the Mapalagama School project were invited.
Chairman of the Trustees Joy Palmer Cooper made a presentation on the Mapalagama project in which she emphasised the success of this wonderful partnership endeavour which has united Rotary Clubs throughout the District's Area 1 in support of this gift of education to the children of Mapalagama.
Clubs and organisations who have contributed substantially to the Mapalagama project are The Rotary Club of Alnwick (which co-ordinated the Rotary fund-raising), The District of R.I.B.I. 1030; the Rotary Clubs of Amble and Warworth, Ashington, Bedlington, Berwick-upon-Tweed, Morpeth, Seahouses and Till and Glendale; The Alnwick Rotakids, The Inner Wheel Club of Alnwick and the Duchess High School in Alnwick.