VISIT TO THE CENTRE FOR HANDICAPPED ON FEBRUARY 12th 2014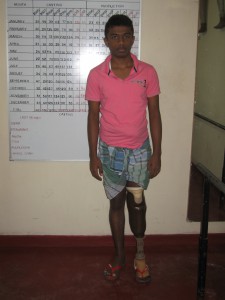 Trustees Joy and David Cooper were invited to visit a Centre for Handicapped near to the town of Kandy on 12th February. This was organised through the Chairman of the Centre, Shamil Peiris who is a Rotarian in the Rotary Club of Kandy. This is an extremely impressive and worthwhile project. Children and adults attend the Centre which provides artificial limbs for those in need, plus a variety of mobility aids, training and assistance.
Our Trustees met several individuals who have received limbs and are undergoing training and were given a guided tour of the workshops and facilities. They are recommending to the Board of Trustees of Project Sri Lanka that the Charity supports this Centre. Further details can be found on the Centre for Handicapped pages of this website.