OPENING OF OUR WELL AT THELULLA JANAPODAYA, 2nd FEBRUARY 2014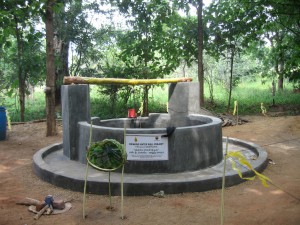 On February 2nd 2014 Trustees David and Joy Cooper visited the village of Thelulla Janapodaya in the Wellawaya District of Sri Lanka to see and to officially declare open the Charity's fourth agro-drinking well.
The well had been completed according to the schedule and a very happy day was enjoyed with the village people and members and officers from Sarvodaya Shramadana. This well has been funded through Project Sri Lanka by the community of Spittal in Berwick-upon-Tweed in Northumberland (see the Thelulla Janapodaya village page of this website).