ALISON AND MICHAEL BROWN IN SRI LANKA JANUARY/FEBRUARY 2014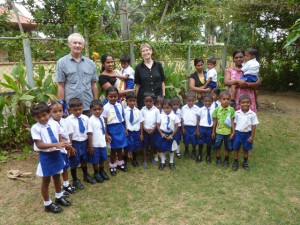 At the invitation on the Vice Chancellor, Professor Mahinda Rupasinghe, Trustees Alison and Michael Brown spent a week at the Sabaragamuwa University of Sri Lanka teaching conversational English. This was their third visit to the University. Whilst there, they also visited the three villages where community buildings have been provided through Project Sri Lanka. In the Southern Province they visited three further Project schools.
Alison and Michael wrote "It is very encouraging to see the dedication of the teachers and the good use the villagers are making of the buildings. As well as schools they serve as banks, centres where midwives and health visitors can come and work and places for numerous community activities." Alison and Michael also attended the ceremony for the laying of the Foundation stones at Mapalagama School (see separate news items and the Mapalagama page of the website).