ADOPTION OF A SIXTH WELL SITE AT 39 KANUWA ON 2nd FEBRUARY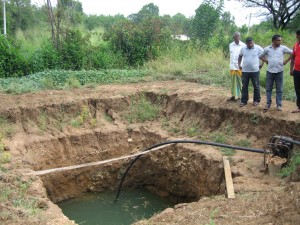 Whilst visiting the Wellawaya District, Trustees Joy and David Cooper were welcomed into the village of 39 Kanuwa which is another community desperately in need of water for drinking and small-scale agricultural purposes. A very pleasant meeting was held when the village people showed the Trustees their potential site for a well and explained their needs.
It was agreed that project Sri Lanka would fund a well in this community with much of the labour for its construction being provided by the people of the village. Hopefully, as long as weather permits, the new well will be completed by mid-July 2014. Further details are provided on the 39 Kanuwa village page of this website.