VISIT OF TRUSTEE SCOTT WEIGHTMAN, NOVEMBER-DECEMBER 2013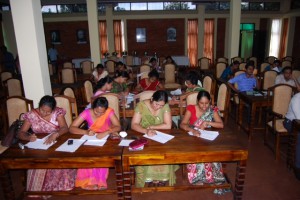 Scott Weightman visited the partially completed well at Thellula Janapodaya on November 11th 2013. This is the well being funded by the community of Spittal in Berwick-upon-Tweed, Northumberland. Scott was greeted in the village with a colourful bouquet of wild flowers and was treated to a banquet of milk rice, fruits, wood apple juice and coconut water. It is anticipated that the well will be completed and functioning in early 2014.
After this well visit, Scott moved on to the Sabaragamuwa University of Sri Lanka where he taught communication skills to both academic and non-academic staff as well as students. Topics included writing and delivering a speech, formal letters, figures of speech, e-mails, sentence patterns, and improving spoken English. All participants engaged in presentations, debates and conversation classes and a great deal was achieved.