VISIT OF STEPHEN FLETCHER TO SRI LANKA, May and June 2012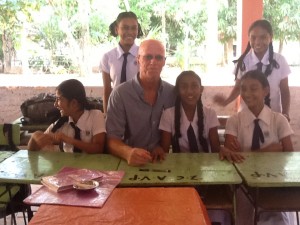 Durham University Alumnus Stephen Fletcher devoted ten weeks of his time to voluntary work in Sri Lanka in 2012. First port of call was the Sabaragamuwa University where he taught business studies, agri-business and English, working around the difficulties of a protracted staff strike taking place the time. From there he moved on to Matara and worked in Aruna Vidyalaya where he taught English to appreciative staff and students of all ages up to university entrance level.
During free time, Steve enjoyed diving in the Unawatuna area and seeing the wonderful natural history including elephants and leopards.