VISIT OF SCOTT WEIGHTMAN TO SRI LANKA, June/July 2012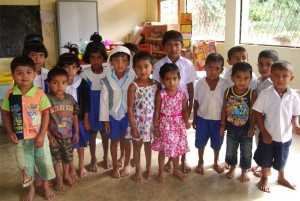 Trustee Scott Weightman returned to Sri Lanka in June 2012. Sri Sumangala College for Girls in Weligama gave him the usual warm welcome. After 4 years of visiting this school, Scott now feels well at home and a part of the staff. He taught English Literature 'O' Level (Auden and Shakespeare) and repeated such lessons at the nearby Siddhartha College for boys. Other lessons included 'A' Level English Language and Music to Grades 6 and 7.
In July Scott moved on to the Sabaragamuwa University where, despite a national strike by university lecturing staff, he was able to carry out a wide variety of lectures and workshops within the Community Development programmes.
One of the highlights of the visit was seeing the three community buildings/pre-schools of Project Sri Lanka, namely Ihalagalagama, Puwakgahawela and Pambahinna, where the villagers and children made him so welcome. In free time, Scott explored a tea plantation, paddy fields and the three largest waterfalls in Sri Lanka.