VISIT OF JOY PALMER COOPER in June/July 2012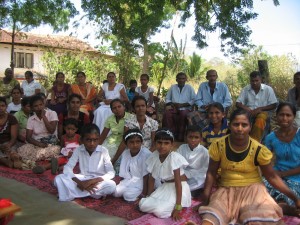 Trustee Joy Palmer Cooper visited many of our existing partnership villages in the Matara and Sabaragamuwa areas in June and July 2012. She spent time with the 2012 team of volunteers living in Matara and shared the wonderful occasion of the ceremonial opening of Vikumgama community building and school. She handed over plentiful supplies of sewing and embroidery materials provided by friends of the Charity in Sri Sumangala School and held meetings with Rotarians to plan for development of our partnerships with Rotary Sri Lanka.
Joy also visited the villages of Koonawalana and Handapanagala in the Wellawaya area, as previously referred to, in order to plan the Charity's provision of drinking and agro-wells in these locations. In both villages, well-attended meetings were held in shady outdoor places where the surrounding parched landscape spoke volumes as the villagers told of their desperate needs for water supplies.