OPENING OF VIKUMGAMA COMMUNITY BUILDING, 12th July 2012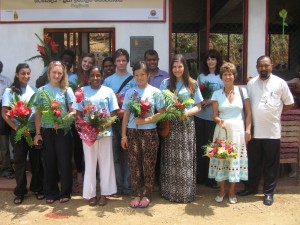 On 12th July the Charity's tenth community building was officially opened in a wonderful traditional ceremony attended by 9 of the student volunteers who had raised funding for this building and Chair of the Trustees Joy Palmer Cooper. Also in attendance were Bandula Senadeera, Head of the International Division of Sarvodaya Shramadana; Divisional and District Co-ordinators of Sarvoydaya's Matara District; Government Officials from the Provincial and District Councils and all of the people of the village.
Accounts of this splendid day written by the volunteers are placed on the Vikumgama pages of this website.