Sri Sumangala Balika Vidyalaya Prize Giving January 26th 2012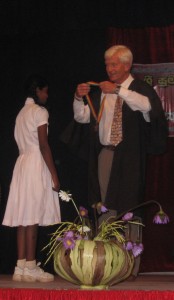 The annual Prize Giving Ceremony at Sri Sumangala Balika Vidyalaya took place on 26th January 2012. Sri Sumangala is a large girls' school in Weligama with some 2,700 students aged 5 to 18. Various Project Sri Lanka volunteers have visited this school and donated equipment and engaged in teaching.
Trustees Joy and David Cooper attended the ceremony during which prizes were awarded to 200 girls for outstanding achievements. The ceremony also included some superb musical and dance entertainment.